Bloggers' Rights
One of EFF's goals is to give you a basic roadmap to the legal issues you may confront as a blogger to let you know you have rights and to encourage you to blog freely with the knowledge that your legitimate speech is protected. To that end we have created the Legal Guide for Bloggers a collection of blogger-specific FAQs addressing everything from fair use to defamation law to workplace whistle-blowing.
In addition EFF continues to battle for bloggers' rights in the courtroom:
Bloggers can be journalists (and journalists can be bloggers).
We're battling for legal and institutional recognition that if you engage in journalism you're a journalist with all of the attendant rights privileges and protections. (See Apple v. Does.)
Bloggers are entitled to free speech.
We're working to shield you from frivolous or abusive threats and lawsuits. Internet bullies shouldn't use copyright libel or other claims to chill your legitimate speech. (See OPG v. Diebold.)
Bloggers have the right to political speech.
We're working with a number of other public-interest organizations to ensure that the Federal Election Commission (FEC) doesn't gag bloggers' election-related speech. We argue that the FEC should adopt a presumption against the regulation of election-related speech by individuals on the Internet and interpret the existing media exemption to apply to online media outlets that provide news reporting and commentary regarding an election -- including blogs. (See our joint comments to the FEC [PDF 332K].)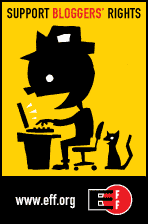 Bloggers have the right to stay anonymous.
We're continuing our battle to protect and preserve your constitutional right to anonymous speech online including providing a guide to help you with strategies for keeping your identity private when you blog. (See How to Blog Safely (About Work or Anything Else).)
Bloggers have freedom from liability for hosting speech the same way other web hosts do.
We're working to strengthen Section 230 liability protections under the Communications Decency Act (CDA) while spreading the word that bloggers are entitled to them. (See Barrett v. Rosenthal.)
If you'd like to spread the word about our work consider adding an EFF Bloggers' Rights Badge to your blog or website.
Protect digital privacy and free expression. EFF's public interest legal work, activism, and software development preserve fundamental rights.
Protect digital privacy and free expression. EFF's public interest legal work, activism, and software development preserve fundamental rights.
DONATE TO EFF
Cincinnati—The Electronic Frontier Foundation (EFF) urged a federal appeals court to uphold a judge's ruling that the identity of an anonymous blogger found to have infringed copyright should remain secret, arguing that courts must balance litigants' needs to unmask online speakers against the First Amendment protections afforded to those relying...

The Consumer Review Fairness Act Is an Win for Free Speech Online, Despite Possible Flaw President Obama

recently signed

the Consumer Review Fairness Act of 2016 (

H.R. 5111

), which passed both houses of Congress unanimously. The bill addresses a dangerous trend: businesses inserting clauses into...

The Consumer Review Fairness Act Is a Noble Bill but Could Leave the Door Open for Copyright Abuse There's a bill making its way through Congress that would protect consumers' freedom of speech by limiting unfair form contracts. The Consumer Review Fairness Act (

H.R. 5111

), introduced by...

This week, the Malaysian Parliament went back into session to consider a series of amendments to the Communications and Multimedia Act 1998 that, if passed, will further chill online speech and worsen the Malaysian regime's persecution of journalists, bloggers, and activists. The amendments may pass as early as next week,...

Wafa Ben Hassine

Should a company be allowed to use its own contractual fine print to take away its customers' free speech? What fundamental rights should not be waivable?

We've written in the past

about companies putting clauses in their form contracts that ostensibly forbid customers from posting online reviews of...

San Francisco—The Electronic Frontier Foundation (EFF) today launched the

Offline

project, a campaign devoted to digital heroes—coders, bloggers, and technologists—who have been imprisoned, tortured, and even sentenced to death for raising their voices online or building tools that enable and protect free expression on the Internet. The...

Thailand, after the 2014 coup by the Royal Thai Armed Forces unseated its democratic government, sits a disturbing gray area with regard to the due process and the rule of law. While martial law was, in theory, revoked last week, and ordinary governance restored, the military are still clearly in...

Our right to express opinions online—for instance, to criticize copyright trolls and their demands for money in hopes of scaring them away—are protected by the First Amendment. The Georgia Supreme Court correctly underscored these protections in a ruling late last week about the state's anti-stalking law. The panel overturned a...

U.S. District Judge Sam A. Lindsay

sentenced

Barrett Brown this morning to 63 months in federal prison, minus the 31 months he has already served to date. He was also ordered to pay $890,000 in restitution. EFF is disappointed to see that Brown wasn't released today, after having...

The Federal Election Commission (FEC) is considering amping up its regulation of online political speech—an idea that should be rejected from the get-go. Back in 2006, the FEC adopted a

limited approach

to regulating the Internet. Some FEC commissioners feel that its approach has grown outdated. But...