(HD) Myth Becomes Reality TV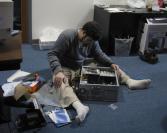 An intrepid group gathered at EFF Saturday to make the most of the window before the broadcast flag mandate by building our own HD PVRs.
Using open source MythTV and the pcHDTV HD-3000, we assembled personal video recorders to rival TiVo -- without the restrictions or dongles. As of July 1, the broadcast flag mandate will outlaw manufacture of the open hardware we used. See the photos and read the cookbook to get started building your own.