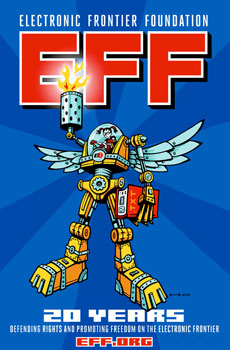 Who needs a jetpack when you have a digital freedom-fighting robotic exoskeleton? Check out EFF's 20th Anniversary commemorative t-shirt and poster designed by EFF staff designer Hugh D'Andrade! The artwork features the EFF Liberty Mecha warrior lighting the way and kicking down walls for your online rights.
Pick up the 20th anniversary poster! This is a high quality offset litho print suitable for framing. The image measures 13" X 19" on 18" X 24" heavy stock. It's just the thing to spruce up that server room.
This design also appears on our newest member t-shirt! These swanky royal blue shirts feature the EFF Liberty Mecha on the front and a steel-winged EFF logo on the back proclaiming 20 years of freedom. It's available in three different styles: women (S-XL), men (S-3XL), and youth (M-L). Get yours today!
Thanks for standing by us and for keeping EFF going!
Join EFF Lists